The Nottingham Emmanuel School is pleased to report some outstanding achievements by its students in their GCSEs and other qualifications this summer.
Ben Lunn was awarded Grade 9 in 11 different subjects – an exceptional set of results, only 338 students across the country achieved 11 or more grade 9s, so Ben Lunn is in that elite %. Ben said: "I'm really proud! I'm staying at NES for 6th form because I really enjoy the lessons, and really like the ethos of the whole school."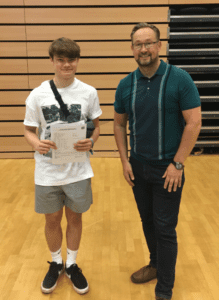 Friends Myles, Khloe and Jenika all achieved brilliant results including numerous top grades, and are also continuing at Emmanuel for A Levels. Myles said: "I'm really happy – we've worked hard and got what we deserved!"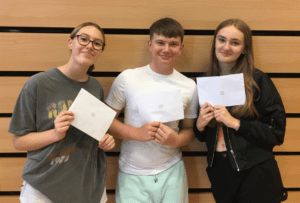 Another group of friends also celebrating superb results, Khad, Eylul and Renai, were also elated. Khad said: "The school has been great, and I want to especially shout out to the Science teachers, who have been amazing!" Eylul added: "This wouldn't have been possible without the support of the amazing teachers at Emmanuel."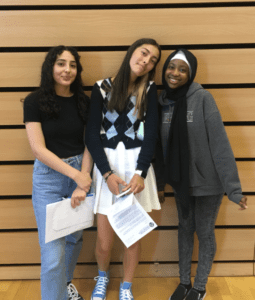 This year, following the cancellation of exams, grades were awarded through a process of teacher assessed grades, against a national standard and approved and awarded by the exam boards. The government is not publishing performance data for any schools or colleges this year due to the varying impact of the pandemic.
Greg Jackson, Year Leader, said: "The year group have been superb, and an absolute delight to lead – we are really proud of them, and would especially like to thank parents and carers for their support and input over the past 5 years.
Sandra Stapleton, the School's Principal said: "We are immensely proud of the work and effort of our students, over a very challenging time period. Our staff have been brilliant in ensuring students are all able to progress onto their chosen routes, and we look forward to seeing what they will achieve in the future, particularly the many students choosing to stay with us for sixth form."